Naturally timeless designs in stone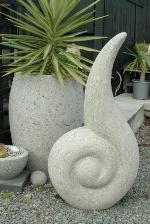 Makers of natural handcrafted hypertufa water features, pots, planters, birdbaths and garden art.
locally owned & operated
NZ sourced ingredients
proud to be kiwi made
2 year warranty on all our products (excl pumps)
everything crafted & finished by hand
friendly advice, service & customer support
At Kapiti Tufa, we have over 12 years experience in producing the very best quality hypertufa garden art available in New Zealand. Clients return to us time after time to add to their collections as our products mix and match perfectly but also stand the test of time.
We have pots & planters in many different shapes & sizes to suit your particular style. Our water feature elements are interchangeable so you can create a look to suit your requirements. We now also have a range of smaller items like our Angels & Pukekos that make ideal gifts.
Please take a look through our product range and contact us with any queries or orders. We also have some great NEW PRODUCTS in our Garden Art section.
What is hypertufa?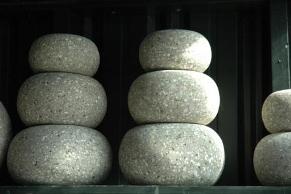 Natural Tufa stone is a type of limestone which forms in close proximity to bodies of water with a high content of dissolved minerals, especially calcium carbonate. Natural Tufa has had many uses over the centuries including use as a building material. The porous nature of tufa makes it very popular for planters, as it will easily drain, rather than trapping water.
Hypertufa is Tufa's man-made equivalent and is traditionally produced by using a mixture of sand, peat, cement and either pumice, zeolite or perlite. Though recipes for hypertufa are easily found, and many of you may have experimented with your own backyard mixtures, what we have developed & perfected over the last 12 years is our own secret, failsafe recipe.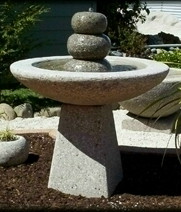 What also makes our product unique is its beautiful smooth finish. We take great care in finishing our products by grinding deep into the tufa, exposing its richness and lustrous texture. Our range includes water features, bird baths, pots, planters, benches and garden art.
Freight Charges
We can ship your order nationally and internationally – costs can vary depending on the item's size, weight and destination. Please contact us and we can supply you with a quote.